A few weeks ago I had the opportunity to meet the author of Why New Orleans Matters, Tom Piazza.  He was hosting a book club meeting at my neighborhood bookstore, so I got there early for the chance to talk with him, thank him and tell him how much I appreciated his book and to hopefully get him to sign it for me.  (Yes, I am a bit of a fan girl!  I make no apologies for that. Several other women lined up behind me for the exact same thing.) In honor of this fortuitous moment, I took the opportunity to reread it.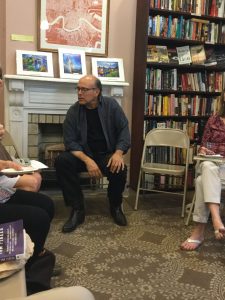 This book, Why New Orleans Matters, released quickly after Hurricane Katrina in 2005, is less of a novel and more of a very elaborate essay on the importance of this city and why it needs to be protected at all costs.  In the days and months, and even years, after the hurricane and my subsequent displacement elsewhere, I felt a loss like nothing I have ever felt in my life.  No one really understood why I was so unhappy, or why I was so unable to settle into this new city and call it home.  I told them I could never call it home, and that it would never be home no matter how long I stayed there.  I tried to explain to them why I felt that way.  I tried to find the words to explain what it was that was missing there, what it was that I had found in New Orleans that I could not seem to find there.  Mr. Piazza gave me the words to say what it was I was feeling. He effortlessly and eloquently put his finger on that timeless thing that makes New Orleans so unique, puts into words that intangible feeling, that mysterious quality that we all love and appreciate so much about this place we call home.  And it is very hard to describe for someone who has never been here.
New Orleans, he says, "has a mythology, a personality, a soul…" (xvii) that so few other places can claim to have.  "The past in New Orleans cohabits with the present…" (xviii) and its history is palpable; it is living and breathing its past.
It feels different in subtle ways.  Never before have I ever felt the air upon me as I do here. It hangs, as one friend described, like a damp wool blanket on my skin.   It sounds different even.  I remember after having been away for a while, that one weekend I was back in town visiting.  I remember telling a friend one morning that the sound outside was different from the place where I was currently living.  I, once again, could not find the right words. My friend immediately knew what it was that I wanted to say and said "it is organic."  That was it.  Organic.  I could hear the banana plant leaves rustling in the wind, the sounds of birds (not cars and construction), leaves blowing in the yard.  It was the beautiful sound of the closeness of nature.  It smells different, too.  As I walk down the sidewalk, I smell the combination of a dozen flowers and fruit trees mixed with coffee and fresh rain from earlier in the afternoon.  An intoxicating elixir.
Reading how Mr. Piazza describes our love of food, music, festival and family, all of which are inextricably tied together, was a beautiful affirmation of what I had already believed and felt, but simply could not express as well as he had. The  "food of New Orleans is a language, and all those who prepare it and love it are family." (22).  It is a big small town, with a community mindset.  We all here are family in a way.  We greet each other on the street like friends even though perfect strangers, yet in our way of seeing things, if I see the same person on the street every day, we are not strangers.
If you are one of the million or so people who experienced Katrina first-hand, I recommend only reading part one.  Part two starts with the aftermath, and while I did experience the storm and the coming home part where I saw images that I will never be able to erase from my mind, I read it anyway. It was a very emotional experience, indeed.  If you are one who wonders why we stay here, why we live here, or why we came back here, maybe you need to read this.  It was not a matter of whether I would come home despite what happened, but more of a question of when.  It took me long enough, but when I finally did, I knew it was the right decision and the right timing. Like Mr. Piazza, I knew this was home, "for keeps, no matter where I might travel." (7)