In honor of March as Le Mois de la Francophonie (Francophone month) where French culture and history are celebrated around the world, I decided to write about one of my favorite Francophone books La Civilisation, ma Mère!…from Driss Chraïbi. Chraïbi is a twentieth century Moroccan writer that I discovered in college during my graduate years.  It was one of the literally dozens of books that I read during that program that really stayed with me all this time, one that I still talk about and remember fondly. It is the touching story of a woman and her sons, who loved her so much that they risked everything to liberate her.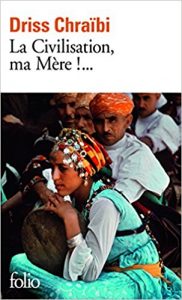 The whole novel is narrated in the first person, first by her youngest son in part one entitled Être (to be).  We assume this is Driss even though he is never named. Then part two, called Avoir (to have), is narrated by the older son Nagib, while the younger is in Paris to pursue his studies.  This is the part that is biographically true for Chraïbi, who did go to school in France and in fact never return to his native Morocco. In part one, we learn about the childhood of their mother, also biographically accurate, who was orphaned at a young age, raised by a family who make a maid out of her, and then married her to a much older man while she was just 13 years old.  She is a traditional Moroccan woman in the 1930s, whose sole purpose and joy in life is to serve her family and make a good home.  Her children go to school and her husband works, meanwhile she is more or less cloistered.  In fact, I lost count of how many times Chraïbi refers to the home as either her prison or her tomb.
But this is during the period of French control, and European "civilization" begins to change the lives of the people of Morocco, especially cities like Casablanca, where children go to French schools and learn French and other European subjects, and new technology begins to arrive. Here is where fiction takes a detour from the true story of Chraïbi's mother.  Our two narrators begin to introduce, slowly at first, the newest products, like a radio, the telephone, the cinema, etc.  We begin to see, ever so slowly the evolution, the transformation of this woman, for better or for worse, sometimes even she does not know, due to the education her sons offer her, unbeknownst to their father.  At first she is frightened, but then she embraces it, and like a sponge, absorbs the information, and it empowers her.  So frightened was she the first time her sons tried to take her outside to a park, in a western dress and shoes they bought for her, that they had to carry her over the threshold.  Yet, in an absolutely endearing scene, she hugs all the trees, eats the grass and dangles her feet in a stream, like a child for the first time outside.  The world is finally open to her.  She can learn about the world from her living room via the radio, reach out of her cloistered space and talk to distanced family members via the telephone, and eventually find her own voice through her new discovery of politics and the education of her sons.
There is so much that can be said about this novel that there is just not time enough, like the scene where they install the radio, which I can only imagine from the description is a massive piece of furniture, causing so much damage during its installation in the house that they had to buy plaster to repair walls and ceiling.  Metaphorically, the damage here could represent the disruption of peace in this household with the arrival of the West in Morocco.  While having caused her stress in the beginning, she does not let it stop her.   Her education does not stop with simple objects of technology.  She takes her new empowered status on the road and tries to educate and empower other women of her country.  There is the burial of all the vestiges of her past, and looking only forward, she undertakes the complete makeover of her house, painting, furnishing with nothing but European imports.  Hers is a miraculous transformation in just a few short years.
It is an inspiring and moving story that has stuck with me for more than two decades. Reading it for the second time has only enhanced my original experience, making it even more endearing that it was the first time.  It is a story of rebirth, liberation, where she herself was a being "colonized" and was freed by the very persons to whom she gave life. They in turn, gave life back to her.  It is about the power of knowledge, having a voice, coming into being (être) and having a voice (avoir).
An enthusiastic 5 stars, if I could give it more, I would.