On Feb 11, 2014 I wrote a blog post on Tea-BookShelf on a book entitled Do You Know What It Means to Miss New Orleans? and its follow-up Where We Know New Orleans as Home. I want to talk about what New Orleans is to me, why it is home, and why I know what it means to miss it so much.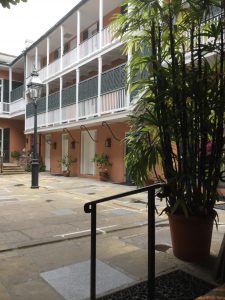 It just made sense to me, to move to New Orleans after school. It was logical. It is quite simply Louisiana's only real city, the city that care (or time?) forgot, the city where no one really cares what you look like or how you live your life. It all just goes rolling leisurely by here, like the old Mississippi, not too fast either because it is too darn hot and too darn sticky.
It is a big small town, overgrown but not grown up. It is a neighborhood a city large, and we all know each other, or at least act like it. Neighbors really do ask how you are, or about your mama, and they truly do care to hear the answer. The other day a neighbor asked me how I was, and I replied that I was surviving. He replied that I looked pretty good for just surviving. Neighbors introduce themselves when moving in.
New Orleans is a lady a little worse for the wear but who still cares to dress herself up in her Sunday finest. She eats well, parties well into the wee hours and still looks great for Sunday morning brunch. And she never, ever forgets a holiday. She is celebrating 300 years soon and know that it will be a crazy party! This city that predates the United States, with all her heritage from France and Spain, but not forgetting the many nations who added spice to her soul, she is weathered but not worn. Well, let me be honest, she is sometimes worn out, but does that not add some charm?
New Orleans has character that just is not found in many places. We dress up the old; we do not tear down. We put a shiny plaque on houses saying Faulkner wrote here, Burroughs slept here, Crowley drank here. Her history, her soul, her dirty secrets, it is all so very interesting.
There is music on every street corner, and interesting people everywhere you look. You may see costumes and wonder where the party is, but know that the party is optional. That may just be their everyday wear. The city draws people back time and time again, and you are very likely to see someone you knew from some other time from some other place. The city also attracts artists, poets, writers, musicians because the city is a story waiting to be told.
It is a song waiting to be sung. It is timeless but not old, and we are all aware that it is not immortal. In fact it lives (as Laferriere says about Haiti) intensively, for the very reason that we know it is not forever. Every year that I spent away from New Orleans after Katrina, was a year that I felt was lost, wasted. It was a year I felt I was on the outside of a window looking in, watching my life roll past me, while I bided my time in another place. It was torturous.
Now that I am home, it is almost as if I had never left. I rolled right back into my place, a place that felt like it had been held for me. Those with whom I had formerly worked asked if I was available, as if I had been simply gone for the weekend. It strangely feels like a place untouched by time. When I consider the time that has elapsed since my return, it could be weeks, or months, but it is inconceivable that years have passed. Years in other places felt like eons.
She is generous, too, this city. In spring and summer she gives us banana trees, fig trees, and citrus that line the streets, bending under the weight of the fruit. Flowering plants in all varieties, gardenia, sweet olive, jasmine, magnolia, shrubs most of them as large as houses, bursting with blooms to perfume the air are everywhere in spring. Yes, indeed, there can be no doubt, New Orleans for me is home.
Vive La Nouvelle-Orleans!