The Stranger, by Albert Camus
I recently discovered the book Looking for the Stranger by Alice Kaplan and started reading it at the same time as rereading The Stranger in preparation for a discussion with a student. It was through this combination of books that I was really able to look more deeply at the themes of the book and the personality of the main character. The Stranger, read by so many students in school, has as Kaplan says become a sort of "rite of passage" (Kaplan, 2). It sparks debate on all sides and leaves us wondering why we sympathize with the main character, wondering why he does not fight for his life, or for that matter even defend himself?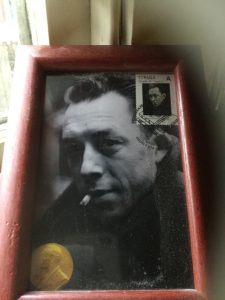 The Stranger is a classic and in my opinion a novel that everyone must read. You can read it simply for face-value, as a book about a man who seems disconnected from his world, and as events unfold he is lead closer and closer to the murder of a man on the beach. However, I think questions will come up that will cause the reader to delve more deeply into why. Why do the events unfold in a way that lead him to kill a man on the beach, why in this moment is he prompted to do something so extreme, and yet with such coldness? Why is he so disconnected from everyone and everything, his mother, his job, his friends, even his girlfriend? Why does he not respond to the violence he sees around him, only to then shoot a man completely unprovoked?
Kaplan says something that I have often heard said by another favorite writer of mine, Dany Laferrière,  in a similar way. She says that "books have a life. They come to life as you read them, and they stay alive long after you've turned the last page." Oh, how I know that is true! The Stranger will do just that to you. In fact, the more I read this book, the more I feel it with me every day. Camus' philosophy, often mislabeled as Existentialist, is in fact Absurdist. He sees men as all being condemned to death, all in their own time, of course. He says that as humans we are somewhat meaningless in the world. Meursault, the main character in The Stranger, says that we cannot change our lives. That basically describes our main character's attitude before his own life. He is indifferent to his own life, saying, for example, to his girlfriend that he supposes that he does not love her, and that it does not make any difference, that it is all the same to him, but that if she wanted him to marry her, he would. He refuses to give way to the expectations of society, has no ambition to better his job at work, basically refusing a promotion and never justifying himself.
Camus uses the first person singular to tell his story, thus putting the words and thoughts directly into the mouth of his narrator. This gives us a strange feeling of distance between us and the writer, all while creating a strange relationship between us and the character. In my opinion it might be why by the end, we have a kind of sympathy for him, even while we basically know exactly what happened on that beach. By the end of the book, I wanted him to fight for himself, to let his lawyer try to save him. But eventually Meursault more or less condemned himself by saying "the sun made me do it."
The question remains, of what exactly was Meursault convicted, putting his mother in a nursing home, or killing a man on the beach? At the trial, the victim was never mentioned, and the majority of the questions to him were related to his mother's placement in a home, his lack of showing sadness, his behavior before the casket (drinking coffee, smoking and sleeping) and the relationship he began with Marie soon after his mother's burial. Additionally, throughout the days following the death of his mother, he repeats phrases like "it's not my fault" or that he felt guilty. Guilt over what? Did he feel guilty for abandoning his mother, or did he feel as if her placement in a home was what prompted her death, which of course we know is not true since we know she had a fiancé while there.
If anyone here is dying, it is Meursault, whose life seems empty. We see his slow Sundays where he sits on his balcony watching Life roll by. We know he has no passion about his job, or even for his girlfriend. He has no pets, no hobbies except bathing either at a pool or a beach. He eats at the same restaurant, and when not there will cook something simple like boiled potatoes. There is no spice or joy in his life from what we can see. He is a stranger to his life. Interestingly enough, talking about strangers, most of Camus' characters are strangers to us, too. We never know Meursault's first name, nor the name of the Arab that he shoots, nor the name of his neighbor's girlfriend, la Mauresque. We never even know his mother's name.
By the time we finish the book, maybe we can come to fully understand Camus' philosophy, just like Meursault does at the end.
A truly stunning read, thought-provoking and moving. It gets better with age, and with every subsequent read! 5 stars indeed.
**** This title also available as a Book Club selection.  See my Services page for details.****