A friend of mine in Japan, Toshiro once said to me that speaking French with me in Japan made him feel like a foreigner in his own country. As someone who has never traveled outside of his country, it was like traveling and was a positive experience. This is what studying a foreign language can do for you. It is like traveling without leaving your home. If he had not been able to speak French, we probably would never have become friends, since I did not speak so much Japanese at the time and he, almost no English. French became our common language and our only means of communication. It was French, not Japanese or even English, that brought us together, as we were looking in a box of French books at the only international bookstore in Yokohama, a city of 3.4 million. It was French that assured us a friendship.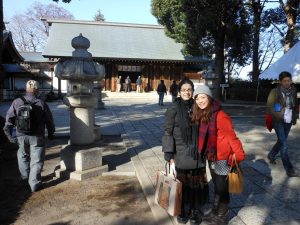 [Stephanie and a student in front of a temple in Saitama, Japan]
Knowing a second language opens the doors to the world for you. It is by far not an easy process, requiring years of hard work and practice and many mistakes, but the rewards are worth it. My journey with French began when I was in high school. I had a teacher who made it such a wonderful experience, introducing culture and history in her lessons, playing popular music or French radio, bringing in posters and just generally being enthusiastic about it. It opened up a completely new universe for me, one I had not previously thought about. The idea of visiting this place that I saw in the pictures of my textbook became a new and exciting goal for me. I continued to study French in college, first because of the language requirement, then later because I loved it, was good at it and wanted to major in it. Then the traveling began.
The first time I traveled to France I realized that I still had a long way to go before I could be able to communicate easily. I was frustrated that I had already studied 7 years of French but could barely understand what was said to me and hardly put a sentence together myself. After returning home, I decided that I had to get serious, and I put my nose to the books determined to speak more French before the next trip. After every trip, averaging 3 to 4 weeks at a time, I started to notice that I was improving. I felt that my communication was getting easier, more fluent, and I was learning new vocabulary every time. I traveled alone, so I could more easily meet people and make friends and only speak French while there, full immersion!
Noticing that I could speak better if I read more in French, I started getting magazine and newspaper subscriptions to my favorites and getting books every time I went to France. While home, I seek every opportunity to speak French, joining conversation groups and events at the local French cultural centers, meeting and talking with tourists, watching French news on the internet, or French movies. There were even French groups which met in Japan to speak French and do some activities together!
I am always so amazed to find French speakers in places I never imagined finding them. That is really my point here. Knowing another language does open the doors to the world, and that world is all around us. Whether you are home or abroad, a foreign language may become useful. I was in Florida visiting my family over the holidays. When we stopped into a bakery to get desserts for after dinner, my dad told me the owner was French. He poked me in the ribs and told me to greet the owner in French. Of course I said hello, and then I asked about some of the pastries. We had a lovely conversation for a few minutes. For a moment, I could pretend I was in France, and maybe he did too! I know what it is like to miss home. I also know how good it can feel to hear my native language when I am somewhere else far from home.  It is worth every bit of those years of hard work.