Our Magnificent Bastard Tongue, John McWhorter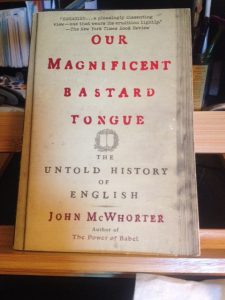 Rarely can I walk through a bookstore without something catching my eye unexpectedly.  I was not looking for this book in particular and had not even known of its existence when I came across it.  It was particularly serendipitous for me as an English teacher to find this book. I dreaded having to answer the question "Why do we have to say it like that?" or "Why like this and not like that?" and those questions often come up.  Hallelujah! This book answered all of those questions for me!
For the language learner, no other language in the world seems like English.  In fact, according to McWhorter, "[T]he pathway from Beowulf to The Economist has involved as much transformation in grammar as in words, more so, in fact than in any of English's close relatives.  English is more peculiar among its relatives, and even the world's languages as a whole, in what has happened to its grammar than in what has happened to its vocabulary." (Introduction, p. xii)  If you have ever wondered why English grammar is like it is, this book will help you understand.  What really happened to English along the way?   When did verbs lose all of their endings, except for the third person singular?  Many languages have very complicated verb conjugations and a whole pile of irregular ones, as well.  If it is a Germanic language like German, where are all of the noun declensions, case markers?  Why does it not look German-esque at all?   I studied German, briefly, and can say that it is very, very different. English grammar, McWhorter suggests, is quite easy compared to languages with all those things, at least in the beginning.  In my opinion, it is the massive vocabulary that makes English so challenging, not its grammar.
McWhorter tells a very animated tale of English through the ages, from the Viking invasions to Norman invasions, then Latin.  He can be quite humorous in his retelling of the history of the language, making it a rather enjoyable read. However, it is an academic text in which he explains the grammar and  history, which are at the heart of his study. However, the read is worth it because it is so important to understand why the language is the way it is.  This is especially important for me in teaching and explaining it.   He will show that the evolution of English is more than just the simple borrowing of words.  There was real grammatical evolution happening by the Welsh and Cornish, later the Vikings, who never managed to speak it well and thus how we lost most of the grammar that had remained by that time, and finally, this is what we are left with.  He will also explain that what is considered a grammar mistake by some grammarians is illogical.  His arguments for these are hard to refute.
There is only one part with which I did not quite agree.  He feels that grammar and language do not shape our thoughts or the way we see the world.  I have read other articles to the contrary and have tested this theory on many students in my years teaching.  I still read the chapter to see his arguments, but I have not been convinced by this part.  Maybe you will be, or maybe you will also not be convinced.  If you want to read the other side of the argument, ask me for links to two really well written articles.
One of the most interesting chapters is the last one, discussing what happened to English before it was actually English (Proto-Germanic), the changes to the language as it evolved as spoken by non-native speakers.
This book is cleverly written, entertaining, if not occasionally heavy and thick with grammar and sophisticated vocabulary, a very academic read, but worthwhile indeed.  I would highly recommend this for serious language learners, linguists, English grammar or writing teachers and lovers of historical linguistics. It is definitely a book I plan to review again and again.